"𝙎𝙪𝙘𝙘𝙚𝙨𝙨, 𝙟𝙪𝙨𝙩 𝙡𝙞𝙠𝙚 𝙡𝙤𝙫𝙚, 𝙬𝙖𝙨 𝙣𝙚𝙫𝙚𝙧 𝙢𝙚𝙖𝙣𝙩 𝙩𝙤 𝙗𝙚 𝙘𝙤𝙣𝙙𝙞𝙩𝙞𝙤𝙣𝙚𝙙. 𝙇𝙤𝙫𝙚 𝙙𝙤𝙚𝙨𝙣'𝙩 𝙣𝙚𝙚𝙙 𝙖 𝙧𝙚𝙖𝙨𝙤𝙣, 𝙖𝙣𝙙 𝙨𝙪𝙘𝙘𝙚𝙨𝙨 𝙙𝙤𝙚𝙨𝙣'𝙩 𝙣𝙚𝙚𝙙 𝙖𝙣 𝙤𝙗𝙟𝙚𝙘𝙩."
This week, I had the pleasure of joining the "Dancing Paradox Podcast" hosted by Alex Hickman.
We discussed the seemingly paradoxical relationship between High performance & Spirituality, non-duality, the human nervous system, nutrition, and more.
​Watch on the Dancing Paradox Youtube Channel below: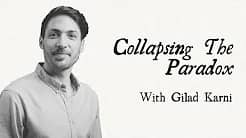 ​OR listen to our discussion on your favorite Podcast Platform:
​Spotify​